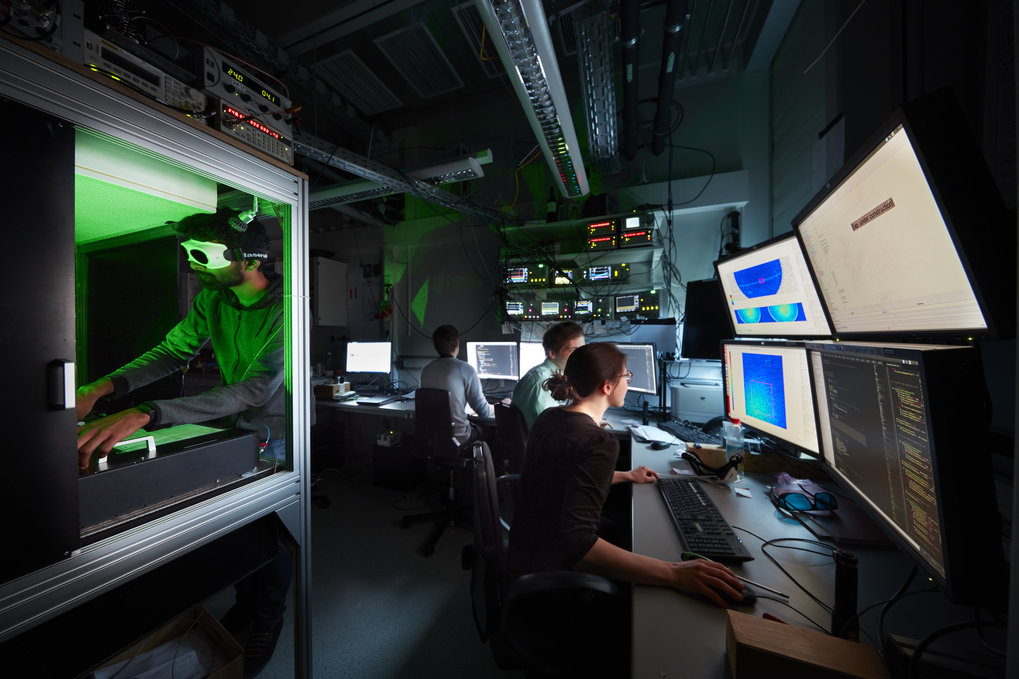 Lithium Quantum Gas Microscope
Probing strong correlations physics in the Fermi Hubbard model.
At the Lithium lab, we perform quantum simulation experiments with single-site and single-spin resolution. We load a deeply degenerate, two-component Fermi gas of 6Li in a single layer of a three-dimensional optical lattice and image it using a high-resolution objective. With this quantum gas microscope, we study the rich phases of the Fermi Hubbard model in one or two spatial dimensions.
Our overarching goal is to unravel the interplay of antiferromagnetic spin alignment and charge (density) propagation in strongly correlated systems. Past projects include the realization of antiferromagnetic correlations in a Fermi Hubbard gas, the detailed study of spin-density correlations, the observation of spin-charge separation in one dimension, and the direct imaging of magnetic Polarons in two dimensions.

Experimental setup
We heat a small block of the fermionic Lithium-6 isotope to about 350 degree Celsius in an oven, generating an atomic beam out of a small aperture. A standard decreasing-field Zeeman slower decelerates the atoms, and a Magneto-Optical Trap (MOT) operating at 671 nm captures them in a steel octagon chamber. At this stage, we end up with about 109 atoms at a temperature of about 300 μK. Next, a second MOT is switched on operating near the narrow 2S1/2 ↔ 3P3/2 transition at 323 nm. After this UV cooling stage, we have ~5·108 atoms at roughly 70 μK. The UV light is provided by a home-built laser system using two nonlinear frequency conversions. The UV MOT enables the direct loading of an optical dipole trap at a magic wavelength close to 1070 nm. Using a large-volume high-power dipole trap we capture up to 10 million cold atoms from the UV MOT. A second, more tightly focused dipole trap at 1064nm is switched on afterwards to transport the atoms from the MOT chamber into the main glass cell. Above the microscope objective, we perform an efficient evaporative cooling to degeneracy in a Feshbach field.
Optical lattice generation and imaging
that differ by a factor of two. They allow for flexible parallel manipulation of all atoms. To achieve superlattices with lattice constants >1 μm, we interfere pairs of phase-coherent laser beams under small angles.
After the evaporation, we first load the degenerate sample into a single vertical plane of a simple lattice. Then, we carefully ramp up the power of the other lattice beams.
Finally, the imaging is performed by Raman sideband cooling in a deep lattice, which pins the atoms while we collect fluorescent light on a camera. In this process, the spin information is quickly lost. But we developed a local Stern-Gerlach splitting, which allows us to convert the spin of each atom to a spatial position before imaging. We, thus, take snapshots of a quantum many-body system that include all orders of spatial density- and spin-z - correlations.
---
Selected Recent Publications
1.
Robust Bilayer Charge Pumping for Spin- and Density-Resolved Quantum Gas Microscopy. Physical Review Letters
2.
367
(6474), pp. 186 - 189 (2020)
Time-resolved observation of spin-charge deconfinement in fermionic Hubbard chains. Science
3.
572
(7769), pp. 358 - 362 (2019)
Imaging magnetic polarons in the doped Fermi-Hubbard model. Nature
4.
565
(7737), pp. 56 - 60 (2019)
Direct observation of incommensurate magnetism in Hubbard chains. Nature
5.
357
(6350), pp. 484 - 488 (2017)
Revealing hidden antiferromagnetic correlations in doped Hubbard chains via string correlators. Science
6.
353
(6305), pp. 1257 - 1260 (2016)
Spin- and density-resolved microscopy of antiferromagnetic correlations in Fermi-Hubbard chains. Science
7.
Microscopic Observation of Pauli Blocking in Degenerate Fermionic Lattice Gases. Physical Review Letters
---
Research Group Members
Name
Phone
Email
+49 89 3 29 05 - 238 (MPQ)
+49 89 3 29 05 - 631 (Office) // -275 (Lab) //
-225 (Prep lab)
+49 89 3 29 05 - 713 (Office) // -275 (Lab) //
-225 (Office) // -275 (Lab) // (Prep lab)
+49 89 3 29 05 - 713 (Office) // -275 (Lab)
+49 89 32905 -215 (Office) // -275 (Lab)
+49 89 3 29 05 - 626 (Office) // -275 (Lab) //
-225 (Prep lab)