Welcome Flavien, Dimitry and Maximilian!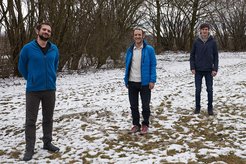 We warmly welcome Flavien Gyger, Dimitry Yankelev and Maximilian Ammenwerth into our Group at the MPQ!
Flavien will work as a Postdoc and Maximilian as a PhD in the new Strontium Rydberg experiment, while Dimitry joined the Strontium experiment as a Postdoc.
We are excited to have you with us.