Dr. Cesar Cabrera receives ICFO PhD Thesis Award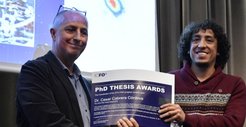 ICFO - The Institute of Photonic Sciences (Barcelona, Spain) has selected Cesar Cabrera, a young postdoctoral fellow in our division, for the PhD Thesis Award 2018 "in recognition of his highly creative and ambitious research project: Quantum liquid droplets in a mixture of Bose-Einstein condensates." This PhD Thesis Award highlights and rewards particularly brilliant PhD theses presented at ICFO.
Together with the experimentalists Carlos Abellan and Pau Farrera (postdoctoral fellow at MPQ), Cesar Cabrera received the award in a ceremony held on 13 December 2019.
For more information visit the ICFO website.