SZ Podcast: "What holds Munich together at its core, Prof. Bloch?"
Podcast interview with Immanuel Bloch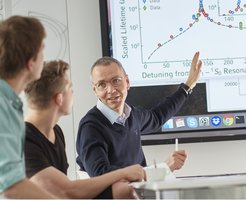 In this episode of the SZ (southgerman Newspaper) Podcast "München persönlich" (Munich up close) Immanuel explains what may soon be possible with quantum technology, how he discovered his fascination for physics and why he has so far turned down offers to teach at Stanford or Yale.
The Podcast is only available in german language.