Immanuel Bloch receives the Bavarian Maximilian Order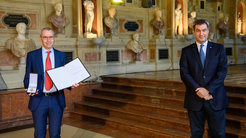 Immanuel Bloch has been awarded with the Maximilian Order for Science and Art on November 10th, 2021.
The Maximilian Order is the highest honour of the Free State of Bavaria for outstandind contributions in sciences or arts. Immanuel receives the Order for his pioneering works in quantum physics with which he has opened up a new and interdisciplinary field of research at the crossing of quantum optics, quantum information processing and solid-state physics: the exploration of quantum many body systems.
If you want to know about this event, please read the complete article on our MPQ website.