IMPRS PhD positions - Call for Applications 2021
The International Max Planck Research School for Quantum Science and Technology is opening
new PhD positions in fall 2021!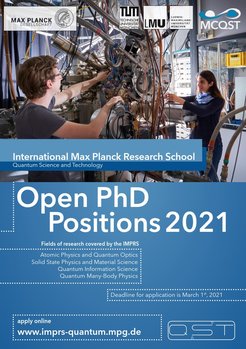 The IMPRS, based in Munich, is a joint program of the Max Planck Institute of Quantum Optics, the Ludwig-Maximilians-Universität München and the
Technical University of Munich. It offers an excellent and coherent graduate program across the fields of atomic
physics, quantum optics, solid-state physics, material science, quantum information theory, and quantum many-body systems. It also includes soft skills courses, industry
contact, and an international and interdisciplinary environment in strong exchange with partner programs.
The IMPRS-QST is closely connected to the Cluster of Excellence Munich Center for Quantum Science and Technology (MCQST).

Applicants must have a Master's degree (or equivalent) before
September 2021. Deadline for application is March 1st, 2021.


The IMPRS-QST is committed to recruiting extraordinary students from diverse backgrounds. We explicitly encourage female candidates to apply and welcome students from all countries!


---
Fields of research covered by the IMPRS

Open PhD
Atomic Physics and Quantum Optics
Solid State Physics and Material Science
Quantum Information Science
Quantum Many-Body Physics

Deadline for application is March 1st 2021

Please apply online: www.imprs-quantum.mpg.de
For more information click here